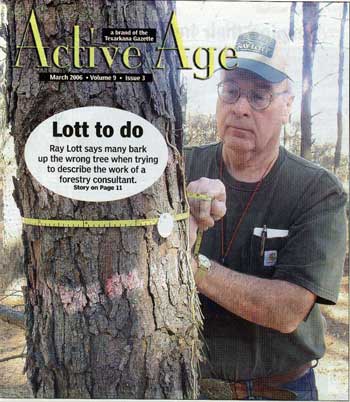 Click photo for the complete article.
Ray Lott & Associates, Inc. is operated by its president, Ray Lott, RF, CF, TAF, who formed this company in 1989 after a 20-year career in the forest products industry, which included forestry and executive positions with International Paper and Weyerhaeuser.

Mr. Lott was a west coast forest fire fighter with the United States Forest Service, a surveyor with the United States Naval Seabees and is a Vietnam veteran.

Ray Lott & Associates, Inc. operates on the principle that the most important element in forest management is the landowner and that sound forestry practices should be utilized in assisting landowners achieve their objectives.

The company has served virtually every type and size of client, including private land owners, attorneys, title companies, doctors, railroads, municipalities, and corporations. Client services have included probably every timber and timberland issue that can develop.
Ray Lott's credentials include:
Bachelor of Forestry – Major: Forest Management – Stephen F. Austin State University (4.5 year curriculum)
Certified Forester® (CF #450) - Nationwide - Society of American Foresters
Certified Tree Farm Inspector - American Tree Farm System
Texas Accredited Forester (TAF #58) – Texas Forestry Association
State Accredited Forestry Consultant: Texas, Arkansas, Louisiana, Oklahoma
Arkansas, Registered Forester (RF #432)
Oklahoma, Registered Forester (RF #166)
*REALTOR® - Gerald Haire Realty - (Burt Clem - Broker, TX Lic 530921)
Member, National Association of Realtors
Member, Texas Association of Realtors
Member, Texas Forestry Association
Member, Mensa