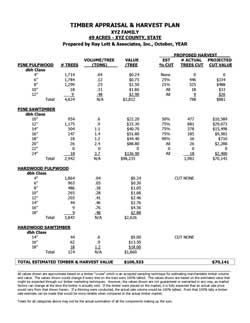 A timber appraisal should be part of your planning process before selling or buying timberland. It should also be part of settling or resolving timber estate or inheritance matters.

We provide timber appraisals for all purposes, including bank loans.

Our appraisals are custom designed, but they usually include full timber inventory (cruise) and timber value. The timber values can be produced in a variety of ways, including per selected area or tree size. Our appraisals can include current, projected, and retroactive timber values as well future harvests.